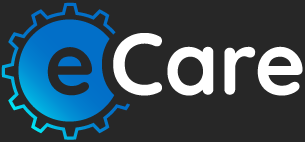 The system will help your maintenance department to reach Industry 4.0 level
With eCare, you can easily create a service plan based on maintenance history, documents and photos all in one place.
Plan your maintenance procedures step by step, easily and intuitively, attach descriptions and instructions, estimate lead time to keep you running on schedule.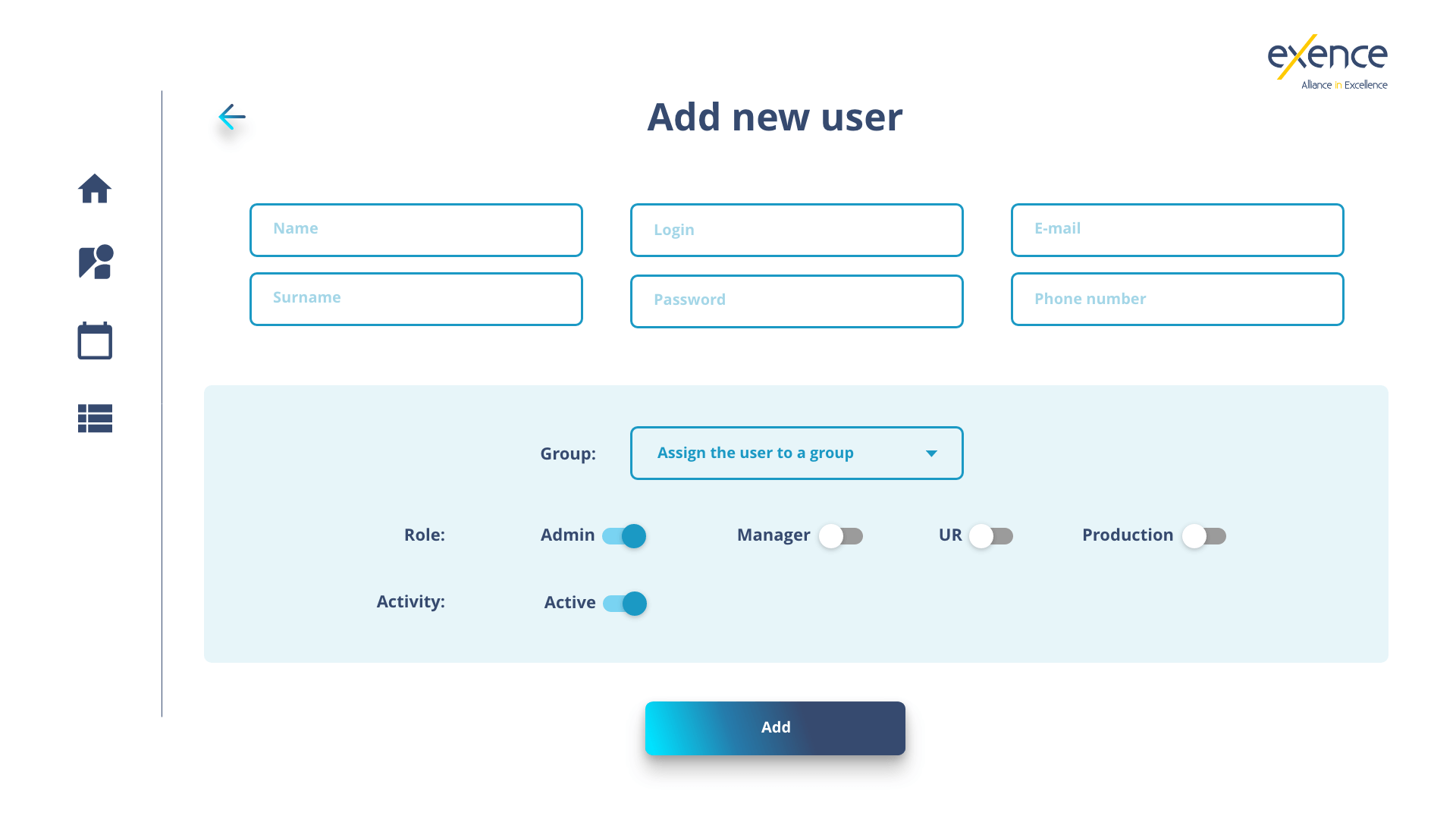 The functionality of eCare application:
TPM
total production maintenance – preventive action plan for operators
Kaizen
suggest possible improvements
5s
Integration with eAudit reports
The system consists of the following modules:
Mobile App
makes information easy to find on smartphones or tablets
IoT Technology
NFC – machine sticker, get data on your phone from attached tags
3 ways to display
view scheduled work and history on maps, calendars or sortable lists and tables
Various preventative schemes: 
Asset Care System
All machines and equipment – mechanical, electrical and electronic – require regular check-ups. eCare allows you to monitor each of these areas.
Production 4.0 solution
eCare is a modern solution supporting the maintenance of production tailored to the requirements of modern industry. In production, this is called Industry 4.0, but preventative maintenance is far more than the support of production plants, which we address with one complete solution.
Prediction
eCare keeps track of information and analyses trends with descriptions of equipment, basic data and characteristics, as well as it's documentation and photographs. You can schedule periodic maintenance or other service at the same time at the same machine level.
Lubrication Plan
To keep your equipment running like a well-oiled machine the application creates a lubrication schedule according to manufacturer recommendations (with the type and amount of lubricant to be used).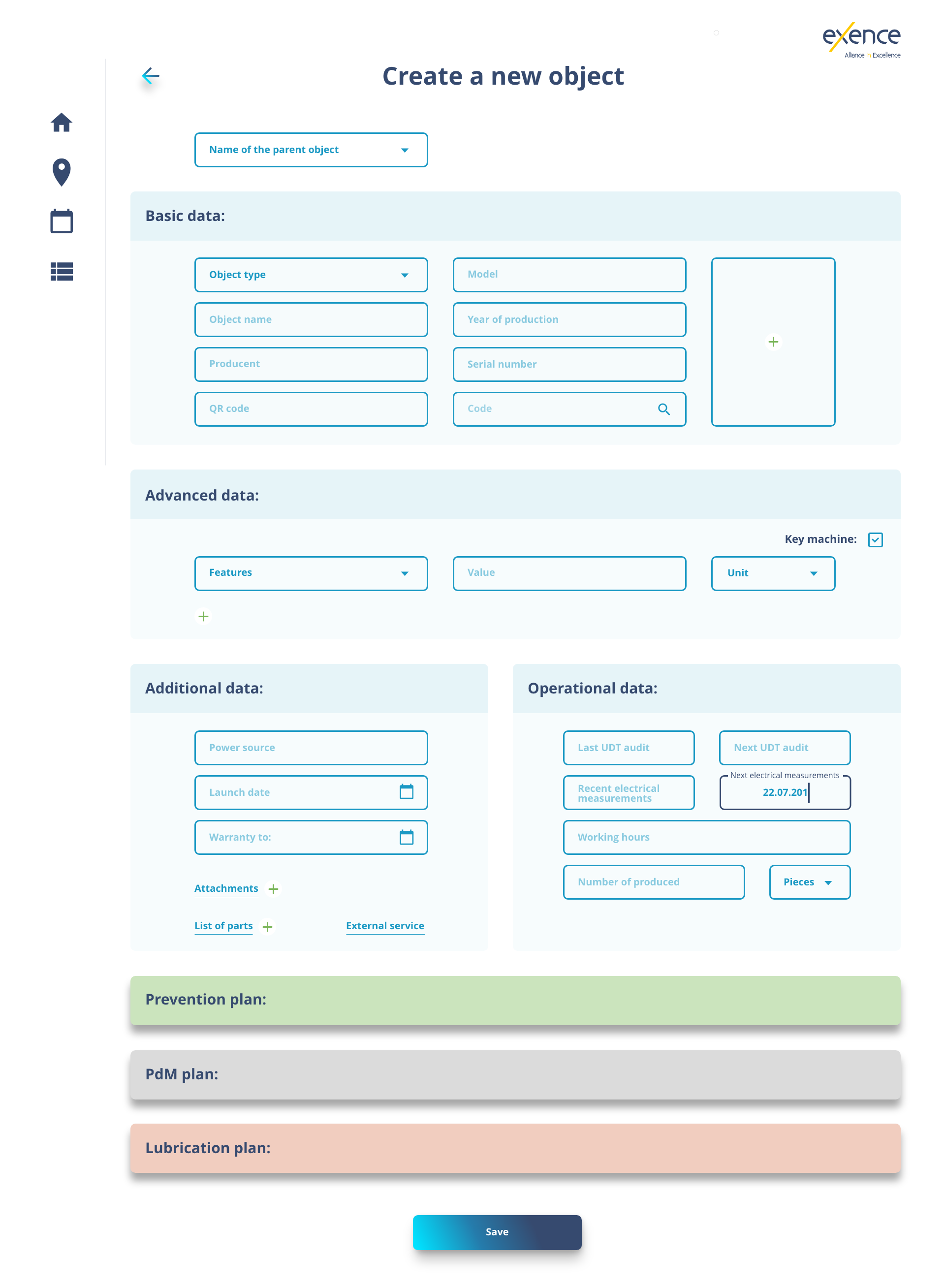 Innovative Asset Care System
The system connects all points in the maintenance plan to review and generate cyclical work orders in the calendar to ensure responsible use and that objects are preventively checked.
In eCare's task list, you can check the current situation, assign people to perform the work and schedule or add a new task to be performed. If there was a problem, you can indicate where it occurred or where the machine (line) has stopped and assign an A-B-C priority level.
The description of the work performed will then be recorded. The closed order will disappear from the current work list and be moved to history. Reports will automatically be created from the data collected.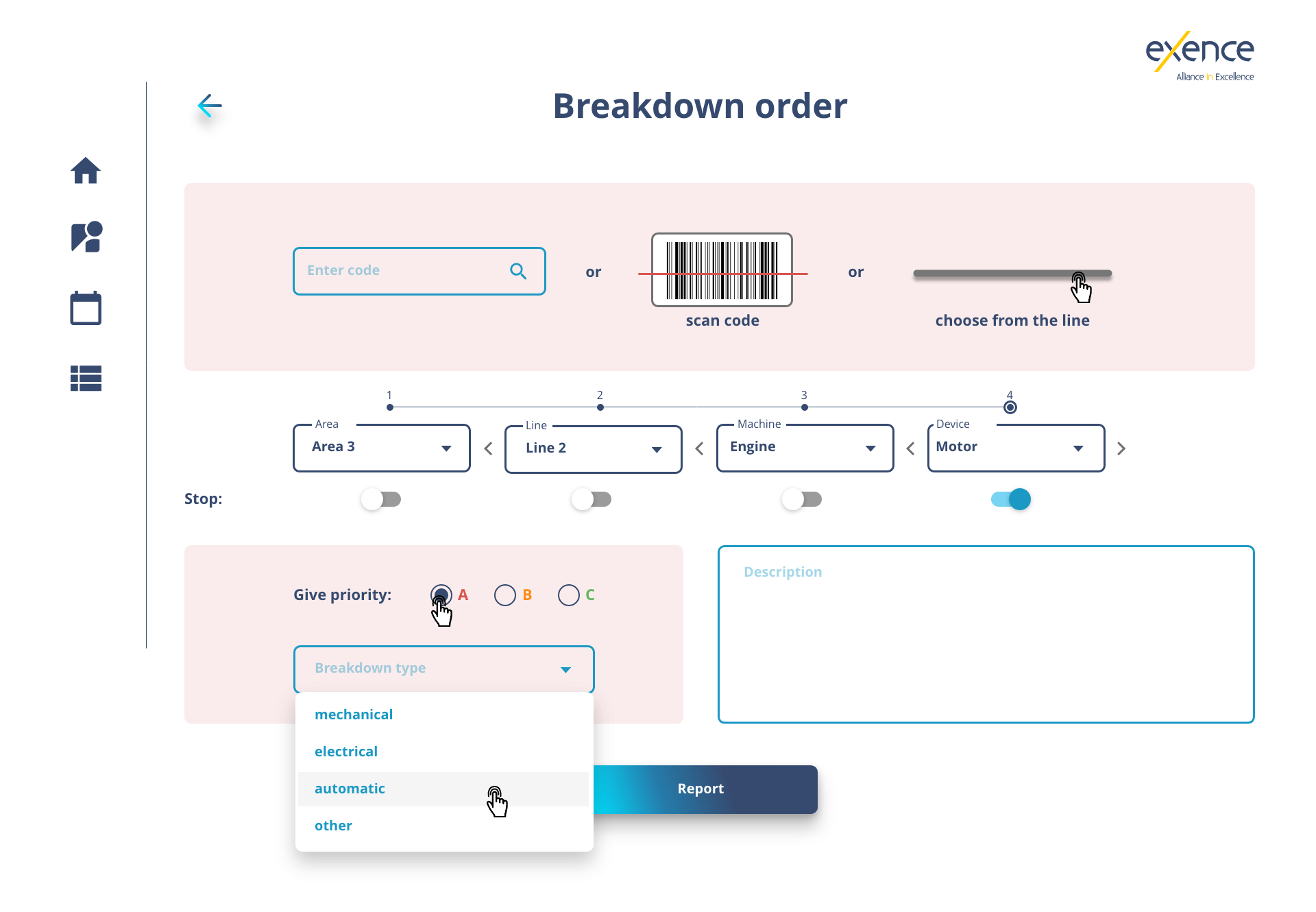 Fault reporting
eCare guides you step by step through the preventive maintenance procedure, instructing you what to do and what standard to follow.
The process of handling a failure ticket starts with a registration code and basic information about the fault is provided by the production line worker. This notification is sent to the TPM department. A maintenance worker is assigned to carry out the corrective work. When finished, the system asks the production worker to check the machine and confirm that it is ready to resume work.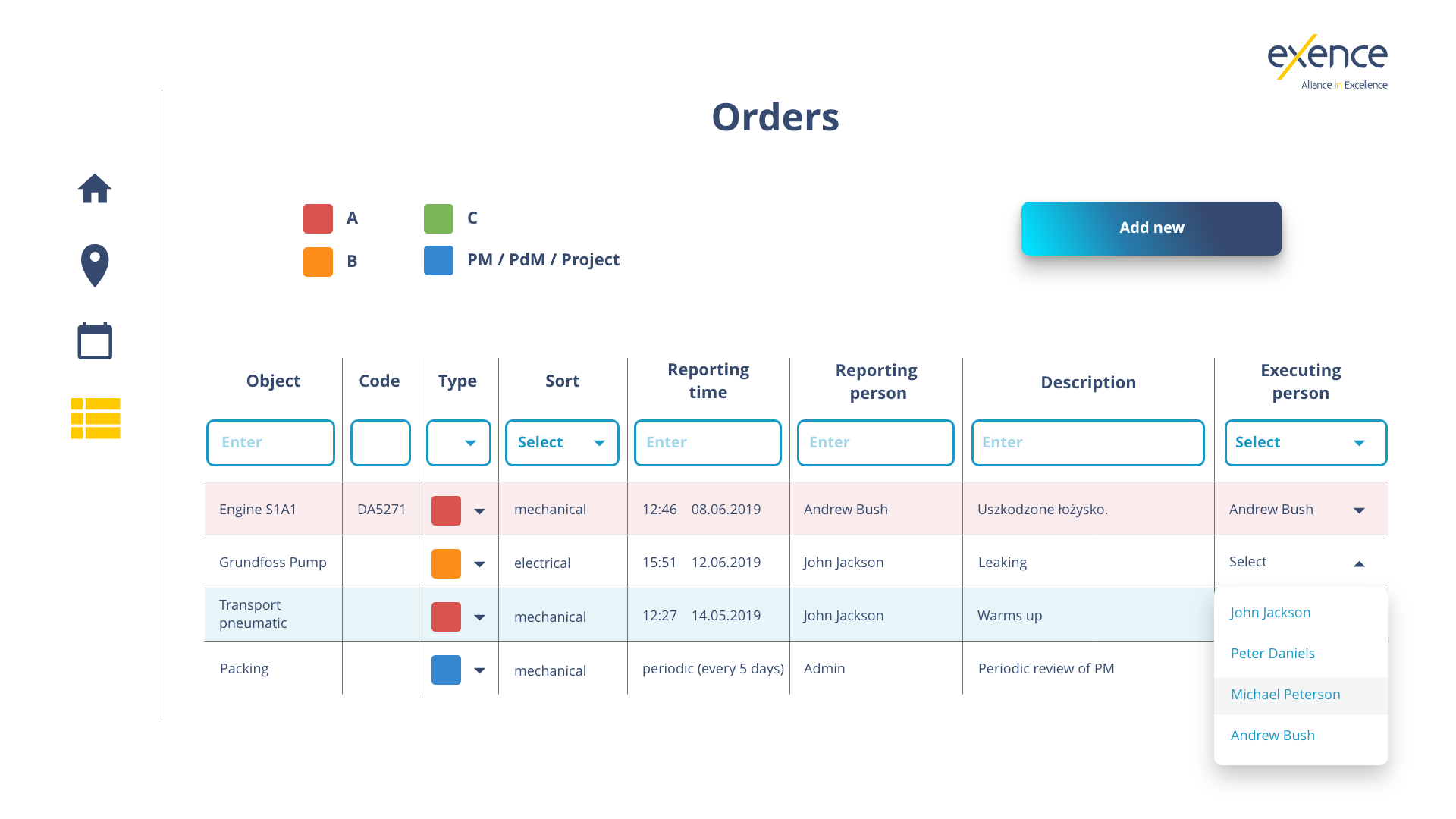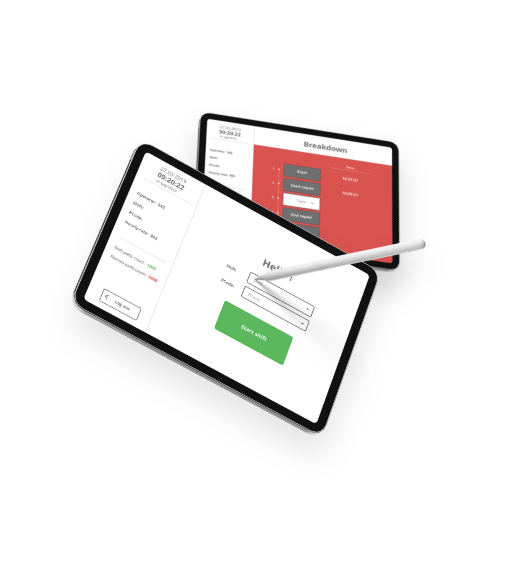 eProduction
System production flow data is recorded directly on the production hall.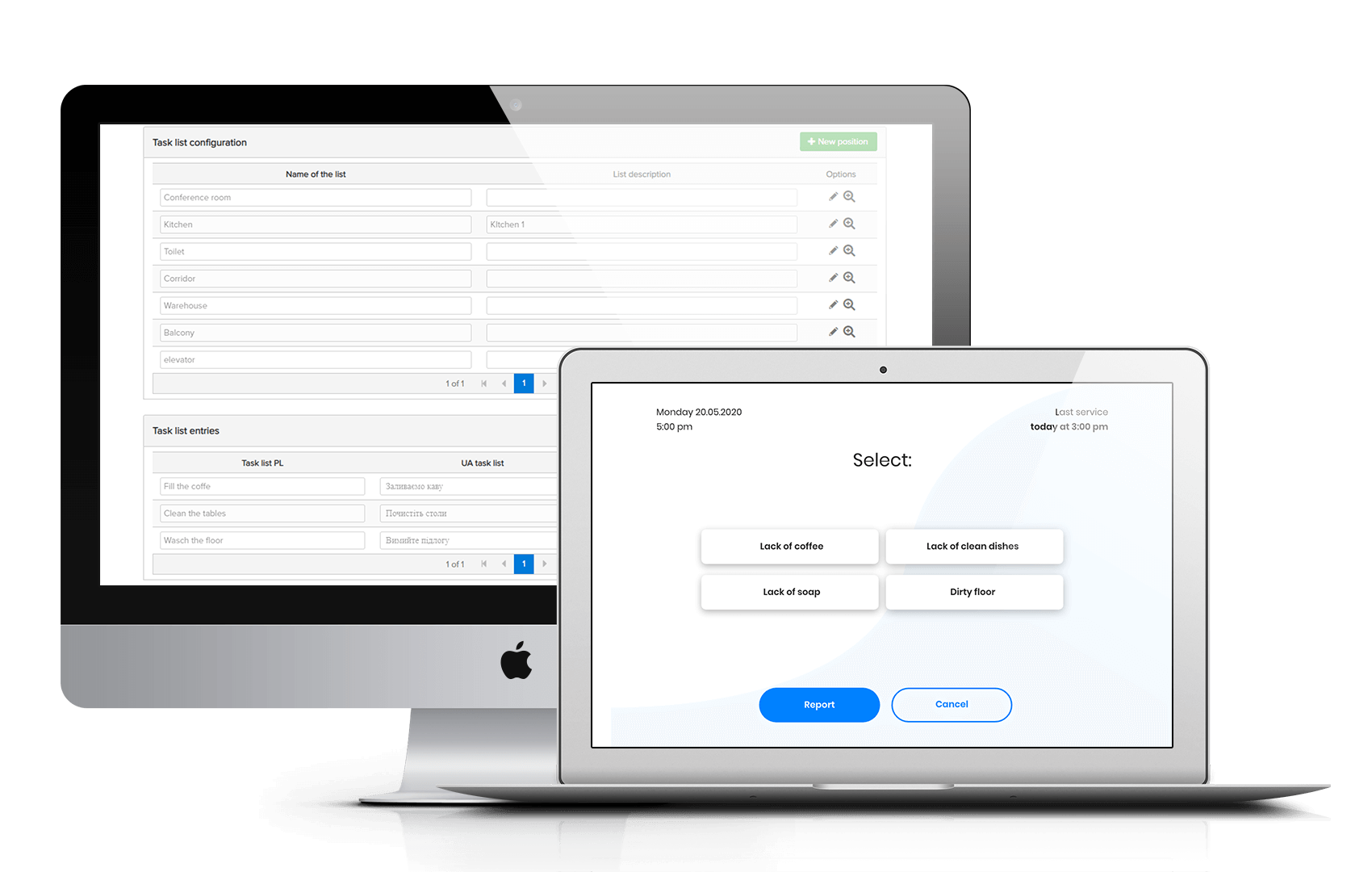 eClean
The system will help keep your organisation clean on large surfaces.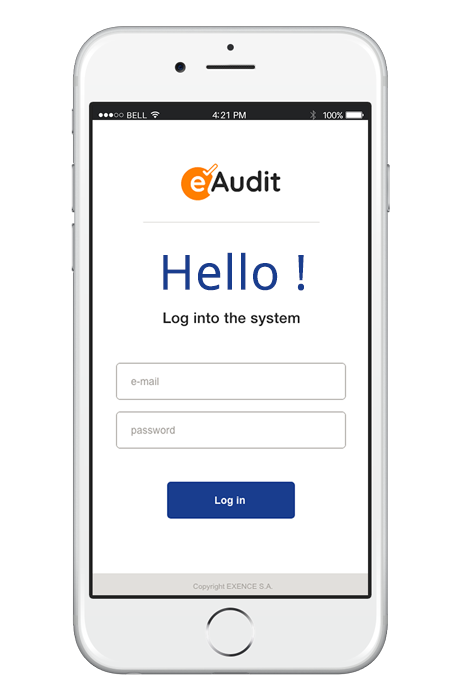 eAudit
The system will provide the ability to report the visit to the facility of contracted people.
eCare is a solution for all industries, wherever technical property, rental of technical equipment, rolling stock, fleet or building management or ASO salons are concerned.
Easy and quick access to event history
eCare tracks work history to define critical points and help find the optimal solution for your problem. Standardised work descriptions make it easier to work and increase the productivity of your maintenance organisation in the future.
Access information for the entire team
eCare is a platform for assigning, downloading, and reporting tasks. The manager can quickly change work priorities, issue a new work order, or the date of completion and immediately inform the entire maintenance team.
With eCare, all orders, schedules, history, current machine status, that is, all the necessary data and information is in one place, accessible to the user from a desktop or mobile device.
Better response time
With eCare's built-in priority-tagged notification system and designated key machines, the response time of on-call maintenance workers is reduced.
Eliminate unnecessary paper documents
The system eliminates unnecessary paper documents. By scanning bar codes and automatically scheduling tasks, countless hours of routine manual operation consumed by completing paperwork is eliminated. Updating and accessing the current status and history of maintenance is much more efficient.
Monitoring and reporting
The system allows you to analyze a large amount of data with advanced filters, which make it easy to find information for your area of responsibility, for a single device or for an employee, as needed.
The system helps you organize your data so that you can analyze it more easily and make decisions that can help you achieve better business results.
Easy to connect with your ERP
eCare integrates with your existing ERP system, so the amount of information available can be much greater.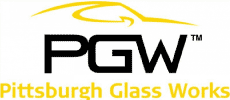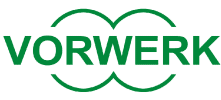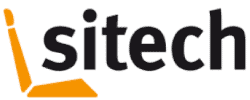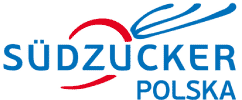 eCare successfully implemented
Headquarters: ul. Bystrzycka 89, Wrocław
European Brakes and Chassis Components is a leading manufacturer of safety components for the automotive sector. It has extensive experience in the field of gravity casting, aluminium machining and brake disc production. Their components are used in by many renowned brands, including Alfa Romeo, Audi, BMW, Daimler, Ford, Peugeot, Porsche, Renault, Skoda, Seat, Toyota and Volkswagen etc.
EBCC required a solution to improve internal communication between the company's management and production employees, to bypass electronic mail and provide unlimited access for each employee. The new tool should support communication with employees by providing information in the form of instructional videos (e.g. job instructions, OHS), presentations, messages (e.g. performance indicators, time to the end of the shift, the number of days without accidents) and so-called "Breaking News.
We have cooperated with Exence for many years. Above all, we value Exence's team of engineers, which is competent in a variety of IT areas. We are always looking for partners who are able to take responsibility for the full scope of a project including the ability to provide infrastructure, as was the case with this project where the modernisation of our teletechnical infrastructure was required, as well as the capability to create a dedicated solution exactly for the needs of EBCC users.